NATO F-86D/K SABRE DOGS
NATO F-86D/K SABRE DOGS
Robbie Robinson and Minimonde76
are happy to present the full history of the
NATO F-86D & K Sabre Dogs
The North American F-86D/K Sabre Dog was undoubtedly one of America's greatest fighters.
Derived from its earlier sibling F-86A Sabre who starred in Korea against MiG-15s, this variant experienced extensive operations in the USA, protecting the skies with the many Fighter Interceptor Squadrons in charge of continental air sovereingty, and in Europe with many NATO air forces. Also built under licence by Italy's Fiat to supply NATO countries, the Sabre Dog served in seven air arms troughout the Old Continent until its final withdrawal from the Aeronautica Militare Italiana in July 1973.
This book tells the story of the European Sabre Dogs with eight air forces, from the inception of the program in 1949 until the retirement of the type outclassed by the new US fighter aircraft delivered to NATO, the F-104 Starfighter. Read how this powerfull and hi-tech new Sabre was pressed into service with major air forces, explore its unique weapons system conceived while UNO forces were struggling to keep Korea under the Western aegis, and spot the surviving examples with the help the detailed production list for each operator
120 color pages,123 photos from official and personnal archives, 43 color artworks, unit badges- landscape format 235 x 185 mm.
Pre-orders soon to open
ISBN 978-2-9541818-5-1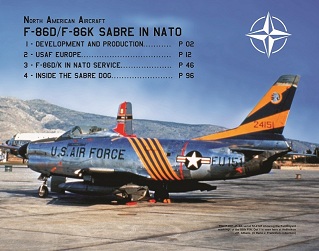 Last edited: Monday, 05 september 2022