Frédéric Marsaly and Samuel Prétat present for the first time a complete study of the famous Canadian seaplanes
Canadair CL-215, 215T and Bombardier 415
64 color pages dedicated to this fantastic family of fire fighting scoopers with a bilingual text illustrated with many of the 140 color pictures never published before, 3-view drawings and 24 specialy commissionned color profiles. Also featured are a photo section showing many external and internal details, full production list and detailled worldwide users, all in a large 12.60 x 9.45 in. format .
These planes are the only ones specially designed to fight wildfires but these "flying fire-engines" are also used for maritime rescue and surveillance. Discover the multiple missions of the Canadair/Bombardier marvel in this French/English book providing you with a complete developmental history and the detailed list of all worldwide civilian and military operators.
ISBN 978-2-9541818-0-6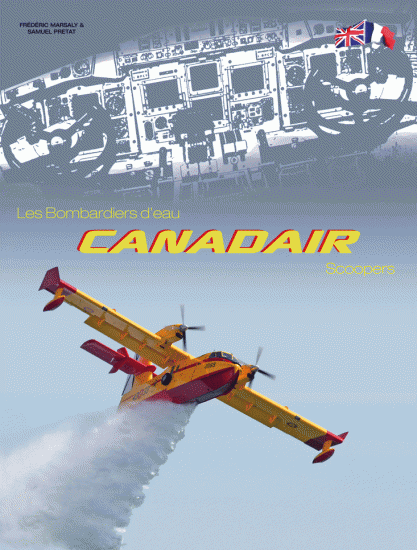 I want to buy now and I visit the Store
A pictorial complement to enjoy in our online gallery and Flickr
Follow us on our Facebook group at Bombardiers d'eau Canadair, le livre.

I click HERE to order this book, € 19.90 + shipping
or
I click HERE to order the Twin-Book pack SPECIAL OFFER with the CANADAIR, € 43 + shipping